Här hittar ni några av mina vänner, natur siter, djur siter och mycket annat smått och gott.
Kom tillbaka ofta de kan ändra sej fort.

Here you are going to find some of my friends home page, about nature,
animal and lots of other stuff.

Där hittar ni allt som man behöver veta och vill veta om våra husdjur.
Here you find everything you want to know about our pet.



Här är det inte bara Australien utan även siter från hela världen.
Mycket hund men även natur siter av alla de slag.
It's not only Australia it is site's from all over the world.
Lots of dog site's and nature of every kind.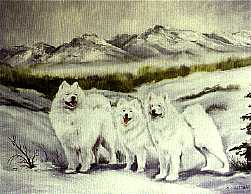 Här är det samojeder i långa banor, men också andra hundraser,
tips, humor sidor och mycket mer.
Here you find lots of Samoyed humor.