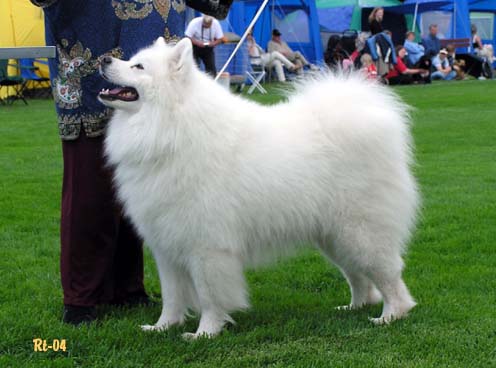 Copyright Riitta "Snowmist kennel"
Slåboda´s Morning Thunder
Född/Born 1999-06-12
Slåboda´s Kennel, Stina Hween
E: Slåboda´s Barbeque Boy
U: LP1 Slåboda´s Russian Roulette

HD=A AD=UA Ögon/eye=UA gonioskoperad UA
Totte has all his CERT at SKK:s shows.
Hi allso have approved the character test and mental test / MH.

Totte är fullcertat enligt SKK:s utställnings bestämmelser.
Han har även godkänt karaktärs prov och MH testad på SBK/ Mental hund test SBK



"Totte" Slåboda´s Morning Thunder & LP1 Lisselhaga´s Bloom Babuchka "Mini"
Har 2 stycken kullar. En född 14/2 2003 och den andra föddes 15/1 2004.
Klicka här för att se valparnas stamtavla mm.
"Totte" Slåboda´s Morning Thunder har även en kull med
Fomida´s Majesty Miriam Millennium "Jeena"
Kullen är född den 15/10 2003 på Polarbjörnens Kennel

"Totte" Slåboda´s Morning Thunder & LP1 Lisselhaga´s Bloom Babuchka "Mini".
Have mate 2 times. The first one it's born 14/2 2003 and the last one 15/1 2004.
Click here to se the pedigree
"Totte" Slåboda´s Morning Thunder have allso a litter with
Fomida´s Majesty Miriam Millenium "Jeena".
They are born 15/10 2003 on Polarbjörnens Kennel